The coalition engages with several community partners to plan drug-free, healthy alternatives for youth in Vernon.
Annual Community Basketball Tournament: Vernon ROCKS hosts an  Annual Vernon Community Basketball Tournament. The event takes place after school, providing youth with a safe, healthy activity. The tournament includes 9th-12th grade students playing officers from the Vernon Police Department and staff from Rockville High School in a 3-on-3 tournament. The past tournament had over 45 participants playing in the tournament with additional spectators in the stands and 10 youth volunteers who helped pull off the event! One of the goals of the event was to remind students that they have positive adult role models in the community that they can go to when they need help or just need to talk. Thank you to everyone who participated!
Volleyball Lock-in: The Vernon Youth Services office at Rockville High School (RHS) works with the RHS Peer Advocate program to sponsor an annual overnight Volleyball Lock-in at RHS. The goal of this event is to provide a safe, substance free weekend event for RHS students. Canned food items are collected from each participant and are donated to the local food pantry. Students form teams of 6-8 and create their own team name and uniforms. They enjoy free food and other entertainment such as Zumba, karaoke and board games throughout the night. In 2017, there were 36 teams with over 260 student participants. This means we were able to keep about 32% of the school population safe and substance free on a Friday night!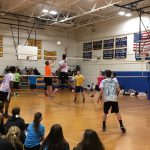 Henry Park Camp: In the summer of 2018, Vernon ROCKS visited Henry Park Camp to teach middle- and high- school campers about healthy alternatives. Campers did a scavenger hunt throughout the park to learn about healthy activities, such as exercising, reading, listening to music, or spending time with family. Campers then had the opportunity to spin our prevention wheel to learn more about the dangers of alcohol and other drugs.  In 2019, we were invited back.  The campers played Substance Abuse Prevention Jeopardy and Wheel of Fortune to learn about the consequences of substance use.