Safe Disposal
Dispose of your unused prescription drugs properly!
Do NOT flush medications down the sink or toilet, water quality and
wildlife are affected.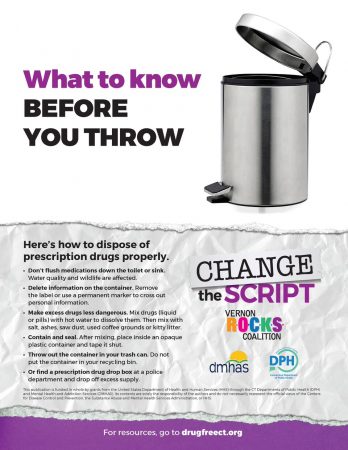 Vernon Prescription Drug Drop Box location:
Vernon Police Department: 725 Hartford Turnpike, Vernon-Rockville, CT 06066
At the Vernon Police Department, you can anonymously drop off your excess supply of prescription medications in the drop box located in the lobby. They CANNOT discard needles or other "sharps", hazardous waste, thermometers, or personal care products (shampoo, etc.).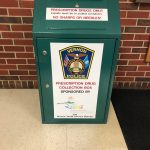 To dispose of medications at home, follow these important steps:
Delete personal information from the container by removing the label or using a permanent marker

Mix drugs with hot water to dissolve them, then mix with salt, ashes, sawdust, used coffee grounds, or kitty litter.

After mixing, place inside an opaque plastic container and tape it shut.

Throw out the container in your trash can. Do NOT put the container in your recycling bin.
Safe Storage
Prescription drugs can be extremely harmful, even deadly! Make sure to store them safely in your home.
Store all prescription drugs in a locked container

Keep track of the exact number of pills left in every container

Talk to your children about the seriousness and risks of using prescription drugs not prescribed to them

Dispose of unwanted/unused prescription drugs. Do NOT save them for later use if you have finished using them for the symptom they were prescribed.