Virtual Meetings and Resources
In response to Coronavirus, we have been instructed to limit our face-to-face interactions with others. For many that includes the attendance to vital support groups.  Luckily, there are still ways to participate in meetings and groups remotely.  Many of the meetings are available in English and Spanish and can be searched by the type of meeting.  The websites below offer resources to virtually access.   
SAMHSA Disaster Distress Helpline
               CALL TOLL FREE 1-800-985-5990
               TEXT "TalkWithUs" or "Hablanos" to 66746
SAMHSA's Disaster Distress Helpline provides 24/7, 365-day-a-year crisis counseling and support to people experiencing emotional distress related to natural or human-caused disasters.
SAMHSA National Helpline (English and Spanish) 1-800-622-HELP
SAMHSA's National Helpline is a free, confidential, 24/7, 365-day-a-year treatment referral and information service (in English and Spanish) for individuals and families facing mental and/or substance use disorders.
What To Do To Occupy Yourself While in Quarantine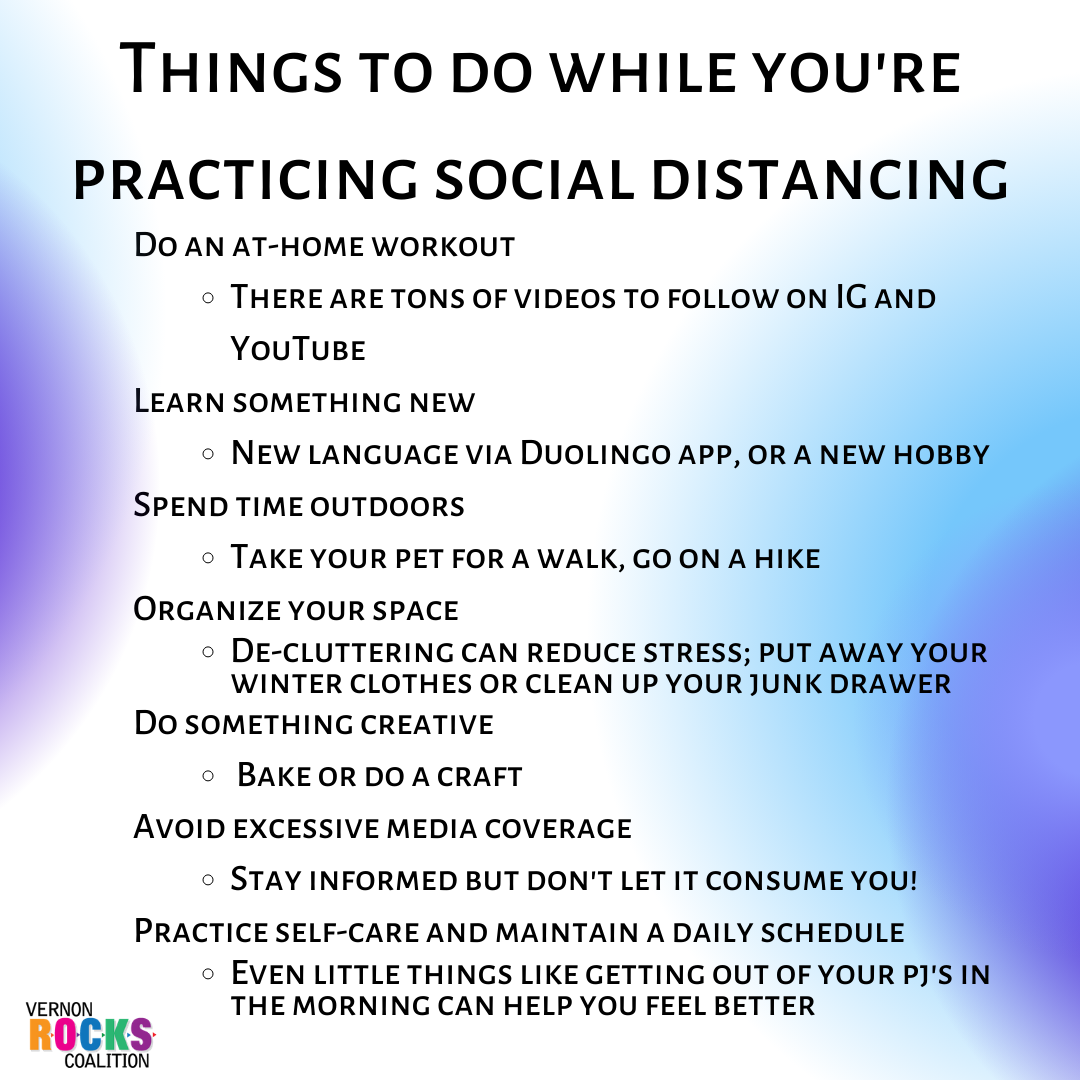 However, remember that if you do not feel like being productive and engaging in projects during this time it is perfectly fine too! Trying to manage and cope through this is new for all of us, you need to do what works for you during this time.
Ways To Cope with Anxiety During This Uncertain Time
If you feel anxious there are apps like Calm which can help you de-stress 
Some Advice For Parents
Teens are heavily influenced by how they see adults acting.  When teens see their caregivers responding to COVID-19 calmly and confidently they, in turn, are creating a healthier and less frightening environment for their teens.
During this time it is important to remember teens often respond to stress in varying ways without outright verbalizing it.  Some signs they may be stressed and need some reassurance and support include
Excessive worry or sadness
Unhealthy eating or sleeping habits
Irritability and "acting out" behaviors
Poor school performance or avoiding school
Difficulty with attention and concentration
Avoidance of activities enjoyed in the past
Unexplained headaches or body pain
Use of alcohol, tobacco, or other drugs
If your teen is exhibiting any of these or you simply want to provide more support you can do the following:
Talk with your teen about the COVID-19 outbreak. The CDC has a fact sheet you can utilize and answer the questions your child poses.  
Reassure your child or teen that they are safe. Let them know it is ok if they feel upset. Share with them how you deal with your own stress so that they can learn how to cope from you.
Limit your household's exposure to news of the virus, including social media. Stay informed, but don't let it consume you. And when getting updated use reliable sources.   Also, there are many positive news stories that can be talked about during this time—the positive environmental impact, and the unity of society
Try to maintain some normalcy and routine in the quarantine.
Be a role model.  Practice self-care by taking breaks, get plenty of sleep, exercise, and eat well.
Allow your teen to stay connected to their family and friends via phone and text and social media, social distancing doesn't mean we have to be alone!
Help Prevent the Spread of COVID- 19
The CDC advises that we
Wash your hands with soap and water for 20 seconds.

Avoid touching your face, eyes, mouth, and nose. 
Avoid contact with people vulnerable to the virus.
Cough into your elbow, not your hand!
Disinfect surfaces you regularly use. 
If you feel unwell, stay at home and call your healthcare provider. 
Only share information from trusted sources.
FOR MORE INFORMATION ON SOCIAL DISTANCING CLICK HERE
FOR MORE INFORMATION ON COVID-19 CLICK HERE
To learn which Vernon Businesses Are Open Click HERE 
For Additional Fact Sheets Click HERE 
For more information on alcohol use in relation to COVID-19 click HERE
Sources: CDC, UCONN Health, SAMHSA